中文名
: 骨骼与肌肉解剖三维模型软件
英文名
: BoneLab
资源格式
: 压缩包
版本
: v2.3.36
发行时间
: 2012年
制作发行
: Next Dimension Imaging
语言
: 英文
简介
:


软件类型:软件>行业软件
软件性质:破解软件
操作系统:Windows
应用平台:Windows 7/Vista/XP
问题反馈:http://www.nextd.com/contact/
网站链接:http://www.nextd.com/bonelab-2-2/
软件介绍:

BoneLab骨骼解剖参考软件,对于学习cg的尤其是人物建模很有帮助,可以从各个角度观察形状。
BoneLab是一个很好的学习医疗专业人士,学生和解剖人体骨骼兴趣的用户工具。
BoneLab三维人体骨骼模型可以研究每一个细节。用户可交互的三维模型,并创造新的看法,着色,添加注释并保存更改。包括一个医疗术语词典是不时更新。BoneLab提供了骨头,牙齿及肋软骨显示。每一部分的骨骼注释英语和拉丁语中的医学术语。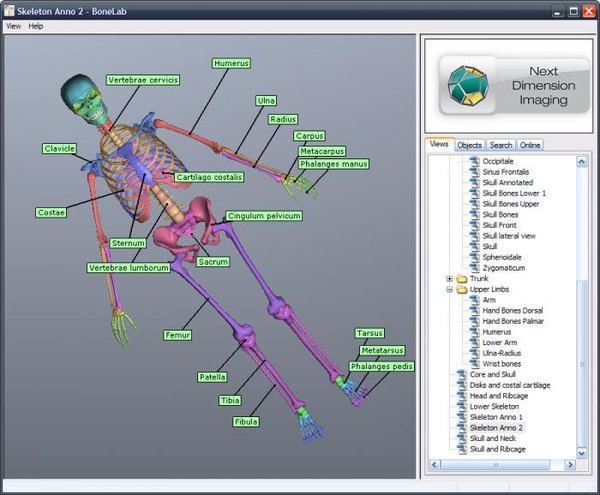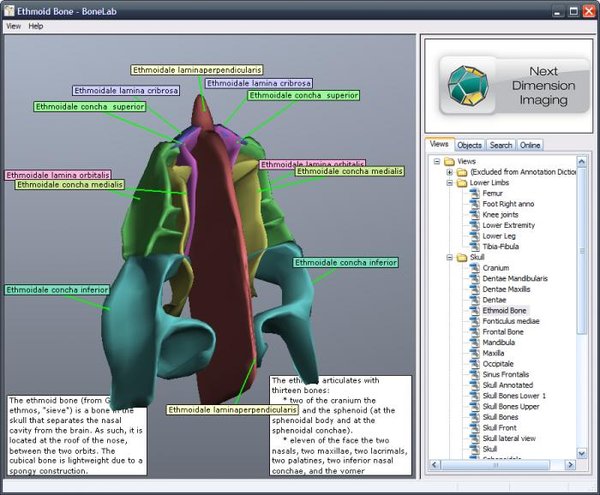 =======================================
下载链接来自sharevirus
未经过安装测试与安全检测,使用者后果自负与本论坛无关
软体版权归原作者及其公司所有,如果你喜欢,请购买正版
=======================================

BoneLab 2 is the successor of BoneLab, the most successful learning software product for the Anatomy of the Skeleton. Visual 3D-view management, a user specific dictionary and instant access to further online information sources, make BoneLab 2 a most efficient aid for learning, studying and reference. Like all our anatomical products, BoneLab 2 offers outstanding features for visual dissection, previewing, adding labels and notes to sectional 3D-views. BoneLab 2 uses our high quality standard skeleton.
BoneLab 2 is easy to use
The powerful visual user interface is unique and shows all 3D views in small preview tiles for quick access. You can create your own sectional 3D-views and add it to a build-in collection of 130 labeled 3D-views. Colorize your views, add labels and notes and save views for later reference.
BoneLab 2 becomes a personal aid for learning and reference
BoneLab 2 becomes a personal aid for learning and reference While adding labels and notes in your language to 3D-views, a dictionary is automatically maintained and helps you to quickly find related views and memorize the anatomical terms. Organize your views in the views tree.
Access Online information
Hyperlinks for all structures provide instant online access to related anatomical and medical information. Click a structure to highlight and display related online info, images and clips in the integrated browser window.
View-centric user interface and manipulating and saving of sectional 3D views
Auto-colorization and auto-focusing depending on interactive dissection
Auto-hiding pointer labels
Growing, personal dictionary for anatomical terms
Online bindings use information on the web as resource
System Requirements
Windows 7/Vista/XP
Hard drive space approx. 100 MB
Monitor: 800 x 600 pixels
3D graphic card
Pentium III or compatible
RAM: at least 1 GB
Wheel Mouse


代码The body in glorious 3D graphics
Nowadays, kids (and adults of course) have high tech 3D computer models such as BoneLab which help bring the body to life and help you memorise more easily parts of the body like the tibia, fibia and... erm... brain. BoneLab allows you to browse all bones in three dimensions. The models are all high quality and support free rotation and zoom so you view them at just about any angle.
It should be noted that BoneLab is not really suitable for kids because it's quite a technical application full of detailed and complex descriptions of the human body. For medical professionals and students it's a dream however as BoneLab features links to Wikipedia for complex anatomical terms.
There's little to criticise in BoneLab as it does an excellent job of making learning about the human body that bit more fun. Perhaps some videos would have been nice though.